About the Series: (1)Brother Soldier On The Home Front (2) Brother Soldier Banned From NJ.Com (3) Brother Soldier Back On The Front Line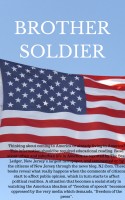 Thinking about coming to America or if you're already living in America , these books should be considered required reading.

As one of Nj.Com's most popular " news blogger's", Brother Soldier's comments involving life in the State Of New Jersey as reported by New Jersey's largest newspaper, The Star Ledger, shows an insight into the actions of humanity, whether civil or political, that could best be described as "mother's wit".

Brother Soldier's refusal to claim any political affiliations, in addition to his honest insight, has more than once raised the wrath of other blogger's, who would take the opportunity to attack him, whenever possible, on any discussion or subject matter; however due to his responses, they leave him alone after one episode of comment exchanges.

These books reveal what happens when the honest comments of a "news blog" actually started affecting political actions and public opinions; which in turn results in the suppression of the American idea of "freedom of speech", by the very media who claims and demands "Freedom Of The Press". A revealing and remarkable study of American urban and suburban life.