About the Series: The Enchanted Writes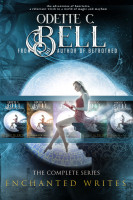 Henrietta is painfully boring. She is uncoordinated, unsuccessful, and entirely unlucky in love. That all changes when a strange man walks into her life talking of witches, magic, and warriors. Soon she finds her life turned upside down, and any semblance of normality banished for good.

Enchanted Writes is a light-hearted urban fantasy series, with plenty of humour, action, and romance.