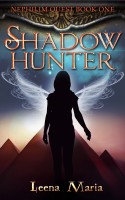 The truth about her ancestry is not an easy thing for Dana to accept - she was deliberately created to perform a task, to find something that should stay hidden, or it might threaten the world of humans as Dana knows it. Her existence is tied to the myth of the Nephilim, the descendants of angels, and her creator was someone who commands the forces of chaos and darkness, the source of all horror myths of humankind. There is a world of shadows, the afterlife, dreams and time travel, surrounding the physical world - and it can be entered from the physical world.

Dana is being hunted by creatures of the shadows, and the hunt can only end in either Dana and everyone she loves being killed or turned into creatures of darkness - or Dana finding what she was created to find.

Her hunters have skills no ordinary human can escape - but Dana is not an ordinary human. Nor is Daniel, the leader of a hidden Center fighting the darkness. Together they must travel the Unseen Worlds, into the past, following a clue written down in ancient Egypt, to find the hidden mystery, before the dark creatures do. At stake is Dana's love, and the destiny of the human kind.