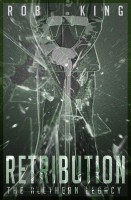 Iraq, 1993. S.A.S. soldier Ryan Marshall is dispatched on top-secret government orders to post-war Iraq. What he discovers there is beyond anything he could have imagined.

A portal leads him to a mysterious, desolate space vessel that has been orbiting Earth for centuries. The human race had been observed by a technologically superior alien species, the Aletheans, until they were annihilated by a deadly virus almost four hundred years ago.

With the help of a small team of specialists, Marshall must harness the alien technology to defend Earth against an imminent destructive force unprecedented in nature, and harness The Alethean Legacy.