About the Series: Met Mystery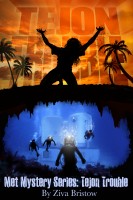 From murder to terrorism, the atmospheric instability of humanity, keeps the Met in business. Granted, her glam day job as a Miami concierge-caster pays the bills, but the entropy of crime fuels her passion. And now, it's personal. She ignored the cryptic pictogram for too long, and her brother, who lives in a fantasy world due to years of drug use, is caught up in a squall line of deadly treachery!

The Met's brother is the Tejon. He sees people as animals and communicates through sketches and pantomime acting. The variables are immense, but the facts stand. Someone's got the tejon by the tail. He's lost his job, his shelter, his mind? Or is the tejon trouble just a plot point on an insidious skew-T of diabolical intent by unknown entities? After all, in the Met's dual world where umbrellas are more often ricin-tipped, than not, the stakes of accuracy are stratospheric---especially when lives are on the line!