About the Series: The Adventures of Larson and Garrett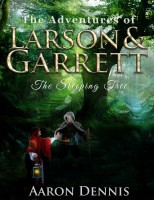 Two friends join the forces of good to fight against a daemon trying to become the new God of Destruction!

Begin the series with young Larson in The Sleeping Tree. Then, journey to Pallisade and face A Werewolf int the Dark. Next, meet Garrett in Infestation; the duo take on an infestation of goblins! Trouble brews in Trouble in Atjibur; it turns out the White Wraith cult is very much active. Learn about a young man's troubled past in Garrett's Tale, and then ride alongside the duo in On to Xorinth. In Xorinth, they run afoul more danger, but get some help from a detective and start Investigating Trouble. After that, Larson and Garrett learn about the Honor of Thieves, but that's before the Assault on Stormguard. In Stormguard, the capitol of Ruvonia, Larson and Garrett take the fight to the White Wraiths who are working for a daemon called Lagos. Their adventures come to an end with A People Defiled....