About the Series: The Redemption of Erâth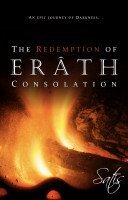 The Redemption of Erâth is a tale of humble beginnings and epic conclusions. A tale of tragedy and redemption. Of great loss—and great hope.

Spanning a series of seven novels, the story follows the life Brandyé Dui-Erâth as he is exiled from his home, travels the length and breadth of the world of Erâth, and ultimately finds himself pitted against the forces of Darkness in a battle to save his entire world.