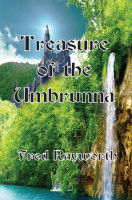 Meleena's a brat. A thief by trade, she can be kind one moment, but has no qualms dispatching a rival the next. 23 years old at the start of the series, she's slept with half the men in town, but the thought of donning a dress makes her nauseous. She's more comfortable with armor and her trusty Elven sword.

There's something special about her. Though she has brown eyes, her pupils are silver. There's nobody else around with eyes like that, at first. She also has a secret that few people know. She can read, write and speak any language. This talent gets her in trouble as well as out of it, along with an ability to talk her way out of many desperate situations. Some would call her a reluctant diplomat.

Her goal is to party and cause mayhem but she soon discovers that there are always two sides to every encounter, and sometimes her first impulse isn't always the best choice.

Come join Meleena on her tales of adventure and discovery. She might learn a few things along the way.