About the Series: An Abbey Rhoads Thriller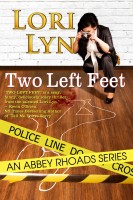 Two Left Feet begins this award winning series, the first of many more books to come. Based on a bumper stick and broken AC, this new series begins with our heroine Abbey Rhoads taking early retirement as an FBI Forensic Profiler and moving to a small Washington west coast town. The stand-alone humorous series follows Abbey's attempt to build relationships and fit in to small town life while also solving a string of mysteries - some fatal.

TWO LEFT FEET is the winner of the Carolyn Choice Readers Award, received a Night Owl Reviews Top Pick!, and finaled in the Hearts of Excellence Readers Choice Award.