About the Series: A Flame Rekindled Series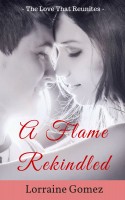 Timothy Beck is an attractive wealthy business man, caught up in a life of success and beautiful women. When an unexpected phone call informs him of the death of his father, Tim is forced to return to his modest country roots. At home, he reunites with a girl whom he never reciprocated feelings for, a plain but vivacious young lady named Kristen. Soon Tim realizes that his old feelings of indifference toward her have changed, but by now she does everything she can to avoid him so as not to be rejected as she had in the past.

When the two share an unplanned but intimate moment, Kristen decides she needs to move far away, partly because of her fear of growing close to Tim once more. A surprised Tim decides he wants to reconcile their differences and sets out to find her. When he does, he sees Kristen contentedly enjoying her new life. Will the two let go of their history and start a new life together, or are there still more barriers between them and a new relationship? The answers are yet to come in the second part of this series.