About the Series: Farmers Directory 1891 series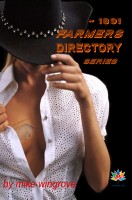 The Farmers Directory hit its prime in the decades around 1900's in Canada. Canada was looking to attract immigration, as well as trying to re-locate citizen across the large expanse following its Confederation in 1867.

This series circa 1891, primarily deals with those counties bordering Lakes Erie and Ontario and quite close to neighboring USA states, especially New York. Non-resident listed are peppered with home addresses, from towns and village within New York, but a extended list as far as British Columbia.

Primary Source Documentation for Genealogy and Family History researchers within Canada.