About the Series: Emergent, Book Two : The Septa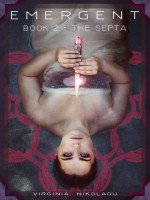 Isobel returns to her place of birth, the territories east of the vast, ice capped Pythean mountain range, Moredea. It is a land very different than Landgraevan, a land of brilliant sun-drenched fields and cobalt seas and a not so apparent ancient mystic ruling elite as dark as the darkest, starless Landgraevan hologram night.



As Isobel explores her new home she'll uncover an ancestry steeped in mystery and a sublimely beautiful country ruled by ancient laws, mystical and savage. She'll take her place among the warriors of the elite Order of the Septa and soon realizes that the measure of her power, that of an empathic warrior, sets her apart in ways that invite, among other things, immortal jealousy of a deeply twisted nature.

Subconsciously driven to satisfy the Dragona Jita's curse, she will stumble upon the very thing she was charged to find, though it will be in the most unlikely form. And it will be because of this most exceptional meeting of forces, as well as the growing power of the Leumane's dagger, that Isobel realizes this road she travels is the one predestined path she was meant to take all along.