About the Series: Phoenix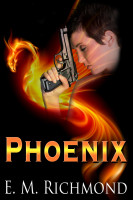 In ancient mythology, the Phoenix is a bird associated with the gods. According to the myth, the bird lives in Arabia. Only one phoenix at a time is supposedly in existence.

When death approaches, the Phoenix would build a nest of wood and set it on fire, then is consumed by the flames. When it was burned, a new phoenix emerged from the pyre.

Abby was just a small-town reporter with a small-town future until a man imprisoned for a crime he did not commit begged for her help to prove his innocence. When the man is murdered, Abby realises there is much more to the man's story and it leads her down a dangerous and tragic path.

Like the Phoenix, she rises from the ashes of her life to begin a new one, but nothing is that simple.