About the Series: Taking Care Of Grandma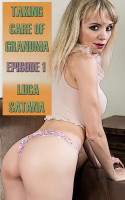 I guess I didn't know what they meant by taking care of Grandma. It's not that I had anything against Grandma. Quite the contrary. In fact, out of everyone else in the family, my Grandma was the one I always had the strongest connection to. Even if, over the last few years, that connection had somewhat faded. In spite of what everyone might think, Grandma always seemed like a pretty nice person. Pretty fun, too. So, basically, I guess what I'm trying to say is taking care of Grandma wasn't exactly something I was opposed to.

So, in the end, I decided to take the bull by the horns. In the end, ultimately, I decided to look at the situation from a whole different perspective, trying my best not to think of taking care of Grandma as a chore, but more like, well, a privilege.

After all, taking care of Grandma wasn't gonna be so bad. Grandma was pretty cute. And she had a great set of tits. And, from the looks of it, a nice, firm ass, too. So, yeah, maybe taking care of Grandma wasn't gonna be so bad.