About the Series: Bonaventura Cozy Mystery Series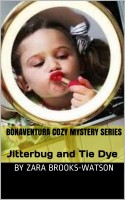 The first book in this series is "Jitterbug" which begins in 1950 with the birth of Julietta Bonaventura. Her mother Emma died of Cholera about the time she was born. Her dad, Vincente, brokenhearted, decided to take the infant Julie with him as he begins a new life as a traveling salesman.

The second book in the two part series -- "Tie Dye" -- begins in Chicago where Vince has a life as a successful tailor in his own shop. Bannister Willis, an old childhood friend and gangster, is able to take a fishing boat to Europe and begin a new life for himself, as well.

Julie, about fifteen, now sews for herself. She tie dyes T-shirts and sells them, pot, incense and hippie stuff on a blanket in Lincoln Park in Chicago. It is the Sixties and the social revolution of the times is going full blast. Always the precocious child, Julie has gone from wearing lipstick at six to selling tie dye as a successful hippie entrepreneur in her teens.