About the Series: American Satanists'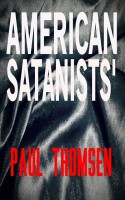 A wicked journey into the realms of the esoteric world of an ultra elite Order of the dark arts. The Circle Sisterhood needs to preserve their ancestral domination that is their holy birth rite. At the center of the saga is Sela Collins, a Mystery School alum of the Circle, and Angel, who has been carefully selected to guide and manipulate Sela to further the destiny of the elite Sect Order.

Tanya, a descendant of the Pharre legacy, is the only person who can fulfill the centuries old Rite of The Covenant. A twenty year old college student who has no idea about the esoteric significance of her ancestral roots, ultimately comes to believe Circle initiates Sela & Angel are seducing her into a "cult" for sacrifice! Or is she?

To complicate matters, Tanya's brother has become embroiled with a radical Christian organization that will stop at nothing to destroy the Circle! Will Thomas succeed in seducing Sela into the sacred realms of the ultra-exclusive Sect? Or will a radical group capture Tanya and put the entire future of the Circle in jeopardy?