About the Series: Star-Eater Chronicles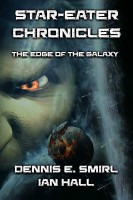 Seth Gingko is one of 1000 MacCollie scouts sent off to map the galaxy. Five years later, as he reaches the edge, his mission completed, he takes ownership of his Survey-Scout; that's his payment for his service.

But fate has given Seth a new task.

As he looks out into inter-galactic space, he finds an invasion taking place. Despite his contract's end, he must return to Earth with a warning.

But even this action has consequences; his last communications will not yet have reached Earth; to the MacCollie Corporation, he's out of contract, heading for jail.

It's never easy being a space hero...

An old-fashioned Science Fiction tale from two award-winning authors.