About the Series: An Alendrian Trilogy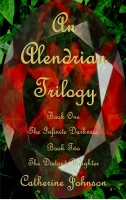 The Infinite Darkness.

Alendria, a land where the Harmonics live in a Citadel built by nature. They value life, beauty, happiness and peace. Above all, they value the spirit of Alendria, the Alendrian Diamond.

But Volca, an enchantress, experiences a vision of terror.

Hadian, a sorcerer and ruler of the Underworld desires the Alendrian Diamond. He creates an army to capture the Citadel and gain control of the Diamond.

Volca sets out to warn the King and Queen, in an attempt to give them time to devise a defence against Hadian and his army.

Volca's actions enact a prophecy but time is against her. She must put all the pieces into place before both Alendria and the Diamond are lost to Hadian forever.

The Distant Daughter.

Evie leads a carefree life, but her peaceful existence takes a fateful turn when she falls into a freezing world of deep darkness.

Evie meets Diego, a strange man who lives alone. He confesses to Evie that he has been living there a long time, waiting for her.

His world, Alendria, is in peril, taken by the ruler of the underworld, Hadian.

To defeat Hadian, a prophecy must be fulfilled.

Can Evie follow her destined path and save Alendria?