About the Series: Vamps in Vegas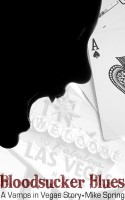 "Everything you know about vampires is wrong. I mean, sure, we do drink blood. And yes, we have fangs, (Have you ever tried to pierce the skin on someone's neck without them? Okay, probably not, but trust me, it's next to impossible.)"

Meet Alex. He's a vampire with a serial case of sarcasm who lives in Las Vegas, a city that has a surprisingly large population of vampires, largely due to its thriving nightlife. When Alex cross-es paths with a vicious crime boss with a vendetta and a desire to become a vampire himself, Alex finds himself in the kind of trouble he usually manages to avoid. Can his fast-talking ways help him (literally) keep his head?