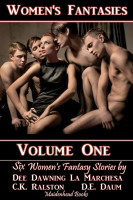 We Take Women's Fantasies serious. Here is a list of women's fantasies. See if yours is in there.

Women's Top 10 Fantasies

From Ask Men

10. Domination (Her Domination over the man) SHE'S IN CONTROL!

9. Domination (His domination over her) she wants some roughness, wants to be owned, if for a little while. Sometimes a wants a man to control her, but only on her terms and only in the bedroom.

8. Teacher / Student. Naughty schoolgirl parades around in sexy clothes and wants to be spanked.

7. Sex with a stranger. She meets gorgeous guy in bar. No names are exchanged. He takes her back to his place or maybe a motelroom.They have hot, maybe rough sex, then she never sees him again.

6. Threesome with another woman. In this fantasy, the man watches while the women get it on together.

5. Threesome with two men. Two gorgeous men worship her.

4. Voyeurism. Watching others get it on.

3. Force Fantasies. Gorgeous man carries her into bedroom, tears her clothes off & they have fast, hot, wild sex.

2. Exhibitionism. Homemade porn flicks, anyone?

And top women's fantasy:

1. Private Dancer. A striptease for your man. His erection signals how much he's enjoying himself.