About the Series: Imperial Sun Saga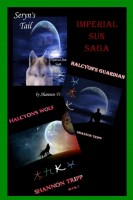 In this world, there are two natural inhabitants: the day-walkers, humans that live their lives in the light of the sun, and the vampyres, the fanged rulers of the night.

And standing between them is a third inhabitant so rare that in some places they are believed to be a myth. They are the only ones that can walk in the day and not fear the night. They are Halcyons, children born of a human and a vampyre.

Halcyons are given a unique responsibility in this world. Some are foreordained to be lawyers, judges, peace-keepers, depending on what the oracles and personality dictate. But there is one in every generation who has a different fate. Always paired with a vampire who is Guardian, friend, and sometimes more, that Halcyon is destined to be the Imperial Sun, the ruler of all.