About the Series: The Bikini Relationship Rescue - Relationship Books For Extraordinary Relationships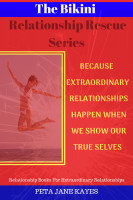 Take your intimate relationship, your marriage to the next level with insightful advice from one woman who, frustrated with her own marriage and the tools available, dug deep to find some amazing answers and solutions.

Book 1 provides clarity about what is behind your relationship problems. You will be surprised to learn what this may be.

Book 2 identifies the 6 principles she developed and applied to her own relationship and demonstrates through anecdotal examples how these powerfully impact your relationship for the better.

Book 3 is all about building the type of trust that not only lasts, but trust that frees you to function at a higher emotional level in your relationship.

Book 4 uses questions to get you to see the role you are currently playing in your relationship and how you may need to change in different areas.

Book 5 deals with emotional intimacy and how to increase it to a level that is not only extremely comfortable but to a level that enhances every other aspect of your relationship.

Written in a conversational tone, each book is an easy read but delivers powerful and insightful answers to relationship issues.