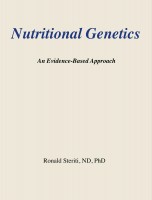 Nutritional Genetics is a very brief review of nutrition and genetics with a summary the published research, primarily from PubMed.

Part 1 is an introduction, beginning with DNA damage and repair, nutrigenomics, nutrigenetics and epigenetics, genetic testing. It also contains sections on vitamins and nutrients and metabolism. Part 2 describes nutritional genetics lab tests.

Parts 3 to 6 have sections on diseases. Part 3 includes Eyes, Ears, Respiratory, Cardiology, and Vascular diseases. Part 4 includes Gastrointestinal, Liver and Gallbladder, Pancreas, Thyroid, Urology, Gynecology, Obstetrics, and Men. Part 5 includes Neurology, Dermatology and Immunology. Part 6 includes Musculoskeletal, Hematology, Oncology, Psychiatry and Miscellaneous.