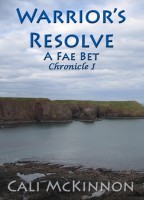 We normally think of faeries as tiny, delicate, ethereal creatures with wings--not tall, dark, handsome beings. According to folklore, faeries, or Sidhe Fae as they prefer to be known, are capricious by nature--not protective, considerate, and reliable.

The faeries and human men of Cali's stories give a new meaning to the word powerful. Yet their compassion for those they love is boundless.

The women they love are intelligent, independent, and caring. They are open-minded and appreciative of the unique attributes of their exceptional lovers.

Take a trip through time--today, yesterday, and tomorrow--with these amazing beings as they explore, and learn to deal with, human emotions, frailties, and strengths. Share the sadness and joys as their human counterparts come to realize that being so powerful has its weaknesses, and living forever may not be as desirable as one might believe.