About the Series: Vampire's Shade Collection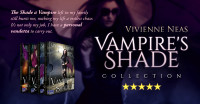 The Shade a Vampire has left in my family is still hunting me, making my life a restless chase.

It's not only my job, I have a personal vendetta to carry out against vampires. They are the reason my sister is on a wheelchair and our mother gone. And I'm not a forgiving girl.