About the Series: Wolves of Haven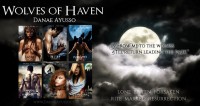 Akia de Wolfe was quickly becoming known as one of Boston's finest. After closing the Silent Ripper case, a promotion soon followed. For the first time since running away from home a decade ago, her life was perfect, until a ghost from her past, a mistake that she had fought to forget, calls.

Coming home to Haven wasn't something she ever wanted to do again, but her father needed her. A serial killer was loose on the small island her family called home, and trying to pin the gruesome murders on him. Facing her demons won't be easy, but in order to clear her father's name and catch a killer she must.