About the Series: Deadly Secrets Saga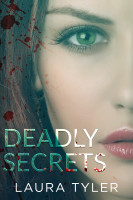 Deadly Secrets is the first e-book in the Deadly Secrets Saga that will unravel the twisted links that tie the lives of four friends together. The series is set in historic Savannah, Georgia and uses local knowledge of the area to enrich the plot line of murder that stretches across oceans and generations. In the first installment of the series, "Deadly Secrets," Miranda Hannigan finds herself amid the ruins of the old home place and discovers that her heart is not the only thing in her life that is haunted. Plagued by ghosts at home and unexpected danger in the streets of Savannah, Miranda turns to those she trusts for guidance. However, betrayal is in the sultry southern air. An old flame returns, but is he really what he seems? Can Miranda sort out truth from lies.....friend from foe......before it is too late or will the family secrets take Miranda to her grave.

Future books will continue to unravel the mystery of the Bloodline organization and will bring back the characters that you fell in love with in Secrets and introduce new characters to love. This Saga will keep you guessing and will blur the lines between the good guys and the bad guys.