About the Series: Forced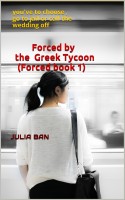 Jinna couldn't understand how just one week before her wedding, she was ordered by her monstrous boss, Demetrio Zarakis, to call it off. He gave her another option—go to jail for robbing his personal safe. Jinna thought there must be a misunderstanding because her merciless boss would never fake a robbery to stop her from marrying somebody else . . . or would he?

Known for his ultimate power and determination, Demetrio Zarakis is like a tornado. When he sets his mind on something, whatever stands in the way is either removed or crushed. What he wants this time is Jinna, who proved to be the most unattainable woman he ever met. What stands between the ruthless tycoon and his goal would be broken, even if it's the spirit and will of the woman he loves.