About the Series: Miranda Jones' Odyssey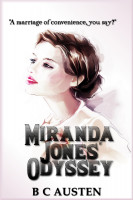 Sydney girl, Miranda Jones, finds herself with her back to the wall following the death of her parents. Her father's gut wrenching Will leaves her mentally bruised and hurting. An only child, her years of self imposed seclusion have left her friendless and she is forced to venture on a crusade to Scotland, bringing about a maze of confusion, fears, and eventually self discovery. Searching for the truth she arrives at an old abandoned convent, and what she finds inside rocks her to the core. The two occupants reveal a crushing past, where she finds out who she really is, what had happened to them, and how she came to be in Australia. She returns home, transformed and buoyed by her newfound knowledge, but it all comes crashing down soon after. She reaches out to Peter, her handsome new solicitor, but is he to be trusted and what was his late father's involvement in her past. She finds out the hard way, with help from Devon, who adores her. Will she finally get a taste of happiness? or will it all be wrenched from her before she can embrace it. Miranda must reach deep inside herself to deal with all the obstacles

This five book series will keep you reading until the last page.