About the Series: The Chosen Chronicles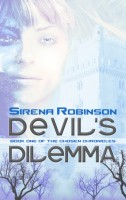 Griffin Javensen was born to die—to save a world that sought to destroy her and for a God that had forsaken her.

Griffin is the Chosen, selected by an accident of birth to decide the fate of the entire human race. Heaven or Hell. God or Lucifer. Her duty is to offer her life as payment and her decision will determine the fate of humanity. As a reward, Griffin is able to ask one thing of either God or Lucifer as she Chooses, and they are not allowed to deny her.