About the Series: Inner Origins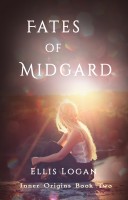 Uncover your inner origins…

Enter the hidden world of the fae, the most ancient race on the planet.

There is an unseen war going on between the Light and the Dark, and seventeen year old Siri Alvarsson holds the fate of the world in her hands. Her whole life has been leading up to this moment: training in martial arts and parkour with her mom, learning the legends of old and traveling from town to town. Now, she's in a new school, she's met a gorgeous guy she'd like to trust, and she's having strange visions.

The pressure is on to choose the dark or the light. Both sides need her if they want to win. The futures of humanity, the fae, and the entire planet all depend on Siri. Which side will she choose? Can one girl really save the world alone?

Ellis Logan's new YA Fantasy series, Inner Origins, is action-packed with magic and romance. The story combines fairies, Celtic/Norse mythology, and hollow earth theory to create an adventure you will never forget.