About the Series: Jasper, Street-Fighter, and Me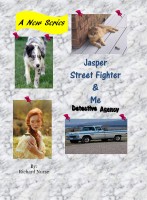 The series is about a retired Marine Major, (Maggie McKenzie) who was an MP, Dog Handler and a veteran of two tours in Afghanistan. She and Jasper, her border collie, who retired from the Marines along with her, decided to put their skills to use as private detectives after her father passed away. One evening, while enjoying a dinner on the patio, they were visited by a streetwise, old tomcat, who won over not jut Maggie, but Jasper as well. It was apparent right from the beginning that there was something special with this tomcat, who looked more like a small lion than an American Short Hair.

Suddenly the Detective Agency had a new member of the team, along with a new name. Together with his new pal Jasper, Street Fighter earns his stripes early on, as he and Jasper team up to protect Maggie from a would be killer, but the drama and the actions for the unlikely pair are just beginning…for Street Fighter is a quick learner, and Jasper a good teacher, as they both work to either protect or take the point, whichever helps Maggie the most.