About the Series: Empathy in the PPNW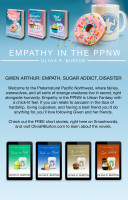 Gwen Arthur: Empath, sugar addict, disaster

Welcome to the Preternatural Pacific Northwest, where fairies, werewolves, and all sorts of strange creatures live in secret, right alongside humanity. Empathy in the PPNW is Urban Fantasy with a chick-lit feel. If you can relate to sarcasm in the face of hardship, loving cupcakes, and having a best friend you'd do anything for, you'll love following Gwen and her friends.