About the Series: Comments on Thomas Hobbes Book (1651) The Leviathan Parts 1-4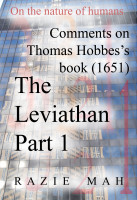 Modernism belongs to the Age of Ideas.

The Age of Ideas started in the 17th century. It recedes in the 21st.

Thomas Hobbes' Leviathan (1651) elevated sense-based impressions and sensible thought. This was the only way to arrive at correct definitions. Correct words produced understanding.

Thomas Hobbes built a model of the subject and the commonwealth based on natural civil laws. He then defended his model against the work of contemporaries.

Hobbes' description of the subject and the commonwealth intimate the modern concepts of the citizen and the civil state. For that reason, he was called a monster.

He is the prophet of the modern totalitarian state.

My comments differ from modernist commentaries, which try to identify where Hobbes went wrong, his system of thought, and so on. Instead, I show that Hobbes' models of speech and power are relational structures.

How?

I use category-based nested forms.

Category-based nested forms were introduced in the foundational work: How To Define the Word "Religion".