About the Series: The Fairy Gifts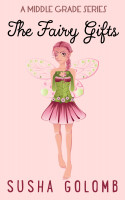 Some people control their destinies. Some people are called by destiny. Some people are called by their cat. This is the story of a girl and her cat.....

Desperate to escape a life of shame after being conned by her best friend, Tefnut (the cat) picks Miriam (the girl) to take her place so she (Tefnut) can spend the rest of her life hiding in the human world. When she discovers that Miriam's family has elf ancestry, well, that just clinches it. Miriam's fate is sealed. Miriam gets three fairy gifts, and she gets told exactly what to do with them. Everything begins from this.....

Did we mention that Miriam's mother was a mermaid? No wonder Tefnut loves this family.....

The books in the Fairy Gifts series are humorous middle grade fantasies, best for ages 8-10.