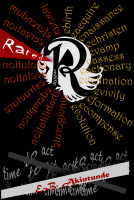 Rated 'R' tells a narrative of a non-existent organisation who takes it upon herself to revamp a nation widely known to be in a pitiable state; particularly, to rid the nation of the so-called unpatriotic elder statesmen.

A retired Police Operative is recalled into FCID (Force Criminal Investigation Department) after the murderer he tracked for three years, which eventually led to his self-inflicted retirement, resurfaced. Little does he know that he is walking right into the scheme of that organisation who is bent on righting every wrongs in the political system by every means possible.

For the organisation, it is finally time for what is called 'Rated 'R''; where the idea of every 'R' word synonymous to 'Reformation' is sold to the populace.