About the Series: The David Saga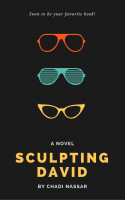 "It is my favorite word, it is my favorite question. I always want to know why."

David, a trust fund baby, has gone through the biggest heartbreak of his life. He is successful, spontaneous, and generally liked, yet he cannot hold onto his one true love. Trodding down a street one day, David is bumped on the shoulder. When he turns around, the individual is staring at him with the crispest blue eyes he had ever seen. Jolted from his broken heart and thrown into a world of love so different from what he has known, David ventures on a journey of self-discovery taking him across the world and through all realms of emotions.