About the Series: En skrotbilsletares äventyr (The Barn Find Chronicles)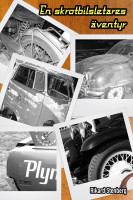 I den här serien med korta berättelser får vi följa en svensk kille som reser runt, mestadels i USA, sökandes efter bilar, motorcyklar och intressanta delar - allt från rena 'barn finds' via auktionsfynd eller bilar som han bara ramlar över på parkeringsplatser, bilträffar, på bilaffärer, via annonser eller ute i trafiken.

Alla berättelserna är rena fantasihistorier, eller ääär dom det?

Jag hoppas i alla fall att du får en trevlig, avkopplande och fantasiväckande lässtund. Tack för du tar dig den här stunden och läser min historia och kanske får lust att läsa fler i serien "En skrotbilsletares berättelser – The Barn Find Chronicles".