About the Series: Blackthorn: Stories of M'Diro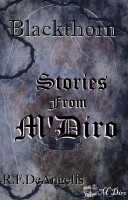 Chloe Blackthorn is a thief.

She didn't start out that way, but who does? Life, being what it is, robbed her of everything she held dear. Living on the streets, she did what she could to give to those with even less than she had ... until the war came.

Alone, sick, and starving she stumbled into an alley to try and get warm, only to breathe what she believed was her last breath. Winter's cold had claimed her, and no one cared.

When she woke nestled in the furs of one of the barbarian Leather Wing, she knew her life was about to get interesting. The journey that lay ahead of her would challenge her concepts of right and wrong, good and evil, and even how she views her own past.

Join Chloe as she explores the world of the barbarians that boiled out of the frozen south and destroyed the last great civilization of men; The Unstoman Empire.