About the Series: WAR PLACE HILL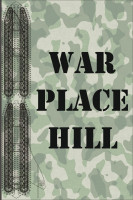 Absolutely unlike anything, this is the story behind the human history of alien intervention on Earth, amazing technologies and revelations.

After the first nuclear test on Earth, Universal Control begins to monitor us more closely, and in 2019 with Earth on an irreversible path of biological collapse, this organ asks that the humanity of the Sanctuary (Earth) be contained.

But the earth has a guardian who starts putting together a superstructure to save some humans and recreate a more developed humanity.

She allows herself to be captured and proposes to Hitler to build a mechanical monster, a tank, with which he could trample the Allied countries. This machine is called of WAR PLACE HILL; So big and powerful that we would never have technology to make it, the size of a hill and faster than any supersonic plane.

General Zian is coming and will comply with the protocol given to him, humanity enters into despair.

Many things will still be happening with the series, many political tricks and unbelievable discoveries of criminal structures, battles, investigations and riots.

Each book will take place in a completely different setting.