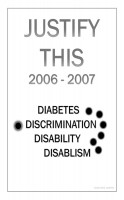 If a multinational employer fired you for having diabetes because you would be off sick a lot in the future, what would you do? This is a true story of discrimination in the workplace, one ordinary person against a multinational employer, multinational legal firm, barrister, appeal courts, countries and international courts, in the form of a diary including emails, correspondence, and judgments. A modern day David and Goliath with many twists along the way.

What would you have done in the same situation?

Topics throughout this series include: diabetic, diabetes, disability, discrimination, disablism, ableism, employment, redundancy, layoff, fired, legal, law, unfair, workplace, dismiss, type, 1, 2, one, two, i, ii, firing, exploit, unfairness, corrupt, intolerance, outrage, unequal, above the law, justice, injustice, bigotry, hypoglycemia, hyperglycemia, law and order, discriminate, enterprise, work, business, corporation, civil, right, hba1c, claim, court, crime, ketoacidosis, termination, grievance, sack, human, campaign.