About the Series: Legend of the Wild Hunter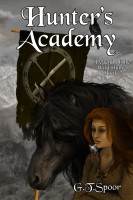 The Hunter's Beginning is the story of a young girl and her search for a place, any place, where she could fit in. Unwanted by a father who regards her as being useless, persecuted by a guild that does not and will not accept her, mistreated by the academy instructors to the point of physical injuries, and even hated by her fellow cadets, Kile Veller finds acknowledgement in the oddest of places, the heart of yarrow. It is only when she comes to accept this strange little companion as a friend that she realizes those things that separated her from the normal world, those things that isolated her from the world of men, are the same things that bind her to the natural world and gives her the courage she needs to do the one thing she desires above all else, to be become a Hunter.

From the trials of the entry examination within the mystic's tower, to the front lines of a war that may be greater than anyone can image, Kile quickly learns that not everything is what it seems and a freaky little peasant girl with Orseen blood from a town that no one has ever heard of might actually become one of the greatest Hunters that the Kingdom of Aru would ever see.