About the Series: Hilfords Chronicles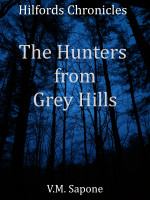 Do you like a little Magic Realism with your Fantasy?

How about some folklore? Faeries, gods, monsters, myths and mages?

If you like these things, there's a good chance you wouldn't hate a murder investigation set in early 17th century Pelgra.

Get into Hilfords Chronicles now!

Ever wonder what would happen if you took your favorite Victorian Era sleuths and sent them back to the early 17th Century? What if you added some Fantasy and Magic to the Mystery? What if there were swords, pistols, monsters, faeries, mages, and a ton of odd history?

Your favorite elements of these genres combine to create the fuel for Hilfords Chronicles.