About the Series: Monster of Monsters Science Fiction Horror Action Adventure Novella Serial Series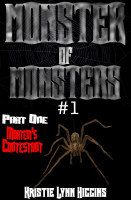 Light and darkness...

All Kein wanted was to be devoured. As an orphan, she had been told since joining her school that it was very important that a house or clan devour her, so when she met a creature promising to devour her, she was confused at first, but then she was consoled that someone wanted her.

A world of monsters and a world of humans...

Loneliness can be a very strong emotion, but it can also be a very strong motivator, so even when a creature of the darkness invited her to come to her, innocence heeded the call. Kein began an adventure of heartache and joy as she walked the paths of shadow and light. She would discover what it was to be devoured as a dangerous game drew her into a deadly realm of wishes, revenge, hope, desires, love, and horror.