About the Series: Scarlet Oaks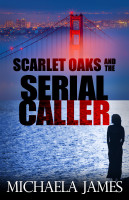 Scarlet's life, as lives go, was a good one.

Great job, cute micro pig and a view of

one tenth of the Golden Gate Bridge from

her living room window.

Her boyfriend's sudden departure, coupled with an

undesired job change, and the good appeared to be fading.

Good was barely visible after one dark and stormy night.

In truth, there was no storm, but it was dark.

Misquoting a sports analogy, Scarlet unwittingly

inspires the first serial killer San Francisco

has seen in some forty years.

Scarlet soon discovers hosting a late-night men's

call in show could prove deadly.

With best friends, Niles and Tom, and their

often hilarious help, Scarlet sets out to find

the elusive Serial Caller...before he finds her.