About the Series: The Awareness Stage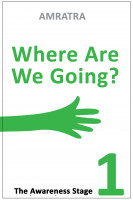 The books in the Series The Awareness Stage, namely: Where Are We Going, The Direction, The Detachment, The Now and The Objective, are intended to redirect your thinking and to change the mentality.

These books will assist you with your understanding of the evolution of Humanity from a macro-universe perspective, preparing you for transitioning and stepping up into the next cycle.

Transform now your thinking, understanding, revise your mentality and be prepared for Humanity's imminent leap!