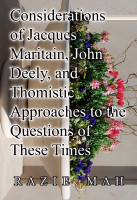 Two models are used to appreciate the tendrils stretching from the present day into the oft forgotten Baroque and earlier scholastics of Christendom. These models are the triadic structure of judgment and the category-based nested form.

Two recent thinkers stand out.

One is Jacques Maritain, originally born in France. He came to Northern America around the time of the second world war. He is keenly interested in how to recover a scholastic approach within this world of modern science.

Another is John Deely, whose recent death marks the end of a long career as both a Thomist and a semiotician. Deely also confronted the philosophers of the day. He did so in a very entertaining manner.

Also, within this series, many articles from journals such as the American Catholic Philosophical Association, Faith and Philosophy, and others are commented upon, as well as Daniel Novotny excellent works on the Baroque scholastics.

This series is not a course, but a place to sample ideas. I encourage readers to consider both the original and these comments. They may be read in tandem or in sequence.