About the Series: Parliament of Twilight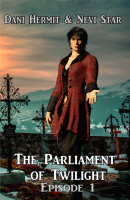 A series of episodes with a large cast of GLBT characters living life in a wild paranormal parallel world, much like our own but populated with shifters, vampires, and more!

warning about this series: The narrative contains some explicit content. Not intended for young readers or the easily offended. The books of the Parliament of Twilight series are written with the intention of portraying real, raw characters and situations. While they are not necessarily erotic novels, there are quite a few sex-laden scenes in the course of the narrative. There are elements of gore, horror, and generally disturbing imagery integrated into the stories, even in the sex scenes.