About the Series: Mah Jongg Mysteries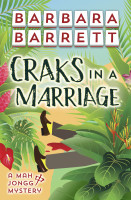 This cozy mystery, the Mah Jongg Mystery series, features four retired amateur sleuths who live in a small Florida town, all female and all friends who play the game of mah jongg together. Though they don't set out to investigate murder, after their first experience in this story, others start looking to them to help investigate subsequent homicides and questionable accidents. In this first book, Sydney Bonner takes the lead, although she turns to her three friends for help. Though this series features four protagonists, the others will take the lead in subsequent stories. Two are married, one is divorced and the fourth, who has been single all her life while she tended to her ailing mother, now finds herself the object of the sheriff's attention in this series.

The four don't seek out murder; somehow the circumstances and those affected drag them in. Meanwhile, as they attempt to gather information, life goes on in their community in such activities as a women's club, a social group for those over 50, real estate transactions, numerous stops at the local coffeehouse, and even a shopping trip to Naples.