About the Series: A Course on The Human Niche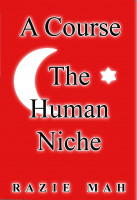 What is an adaptation? What is a niche? The category-based nested form turns out to be useful in relating the two. An adaptation exploits a niche. A niche is the potential of an actuality independent of the adapting species.

What is the human niche? What is the potential, independent of the hominins, that sculpts our ancestors through many generations?

Foundational scientific hypotheses are packaged in works of art.

Here is how to conduct a course for high school and college students.

To start, all students should read and discuss A Primer on Natural Signs.

The comments cover four books on human evolution. The student is to select two. If other students are in a seminar, they will select others. Read the book along with comments. A class of four students allows two to discuss each book.

Finally, all students should read and discuss The Human Niche.

Other works and comments will be added to the Human Development Series.